Note: This post contains affiliate links to some goods I thought you'd enjoy. Using them allows me to earn a small finder's fee, at absolutely no additional cost to you. Any product photos are the property of their respective creators, and appear here via a URL preview widget. Thank you for supporting independent artists and artisans, and this site!
Giving gifts is a big part of Yuletide tradition for me. It symbolizes a celebration of hard work and a person's willingness to look out for those they care about -- during the cold, lean winter months, giving your time, effort, and money to give a gift to someone you love is especially meaningful.
My significant other and I have been together for a couple of years now, and we've had some time to evolve little holiday traditions of our own. Where I like ravens (and wear a whole lot of 'em), he likes phoenixes, and I always try to get him at least one small thing in that theme every year.
This ornament
from
GielishWoodSculpture
is not only gorgeous, the natural wood grain completely fits with the rustic, naturalistic style our decorating usually has. And, since it's only $20 and made of partially reclaimed wood, it's kind to your budget and the earth.
[caption id="" align="aligncenter" width="600"]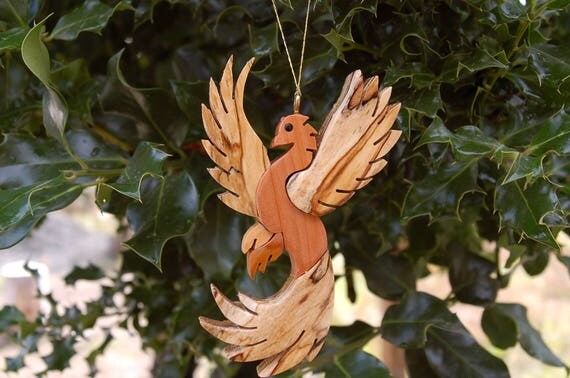 Source:
GielishWoodSculpture
.[/caption]
With our small apartment (and now two cats!) we've always had small trees -- usually those little rosemary bushes you see outside of the grocery store this time of year. Though they may be small, they've become a big part of our holiday traditions -- it wouldn't be the Yuletide season without the smell of rosemary. If you have a rosemary lover in your life,
this cute, Christmas-tree-shaped bath bomb
 by
feelingsmitten
makes an excellent gift. It's full of muscle-soothing epsom salts and skin-nourishing dead sea salts, so it's as functional as it is pretty. Gift it with these
bars of rosemary, mint, and shea butter holiday soap
 from
JOANSGARDENS
 for a soothing, fragrant spa experience.
When it gets cold enough outside, curling up by a snowy window with a warm cup of tea and some shortbread is one of our favorite winter activities. If you're looking for a gift for an officemate, someone who's hard to buy for, or someone who has everything, you can't go wrong with some delicious, caffeine-free
rooibos chai tea
 from
MerryMugTeas
. Pair it with some decadent
soft vanilla shortbread cookies
 from
ASeasontoCelebrate
, place them in a fancy basket, and you have a great gift idea for just about anyone.
[caption id="" align="aligncenter" width="600"]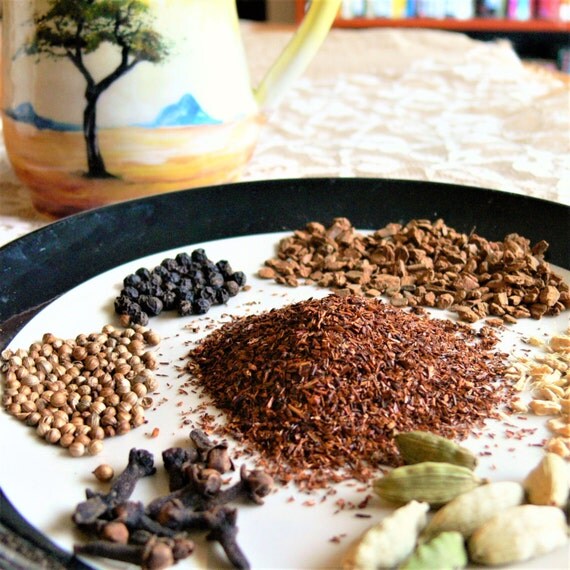 Source:
MerryMugTeas
.[/caption]
One of my other favorite winter traditions is lighting a bayberry wax candle. Even if you don't incorporate them into a prosperity ritual, lighting these candles is said to bring good luck and wealth into your life for the coming year. If you have a lot of holiday parties to go to, a pair of
attractive, handmade bayberry wax tapers
by
ScenterSquare
make for an
excellent
hostess gift.
Even though most people don't think of hiking or going to the beach during the winter months, it's one of my favorite times of year to get outside. My significant other and I come the beach for shells and fossils, see if we can spot animals sleeping under a blanket of snow, and wander through the changed landscape. One of our first dates was during a campout, so cooking over an open fire and making s'mores will always have a place in my heart. If you're shopping for an outdoor explorer, you can't go wrong with a gift like
this artisan s'mores kit
from
talkaboutsweet
. With handmade marshmallows, cinnamon graham crackers, and fine chocolate, it's an upscale model of the campfire favorite.
[caption id="" align="aligncenter" width="600"]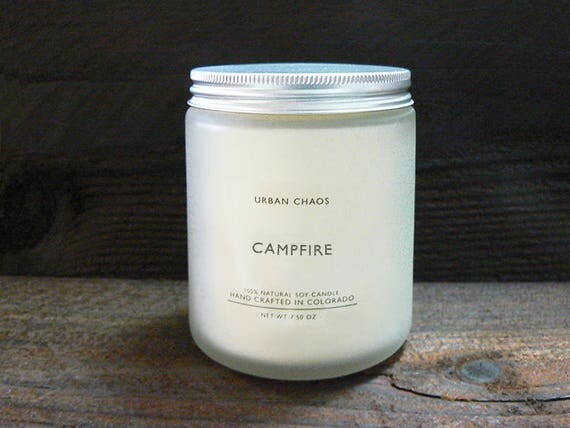 Source:
UrbanChaosUSA
.[/caption]
If it's going to be awhile before your favorite outdoorsperson can hit the trail again, consider gifting
this campfire candle
from
UrbanChaosUSA
. It's a coconut/soy wax blend, fragranced with essential oils, with the nostalgic aroma of a briskly burning campfire. All of the atmosphere, none of the smoke.
Do you have a lot of people to give gifts to this year? What are some of your favorite finds?