Note: This post contains some links to items that allow me to earn a small commission from their sale, at no additional cost to you. Product photos belong to their respective owners, and appear here via a URL preview widget. Thank you for helping to support this site!
Let me preface this by saying that my S.O. and I are in a mixed religious relationship. I'm Pagan, he's agnostic. We don't talk about religion much, but he's wonderfully supportive of all of my weirdness.
He also doesn't mind taking a day trip all the way out to
The Crystal Fox
in Laurel, Maryland, to go look at fancy rocks for a few hours. For Valentine's Day, he even got me this
absolutely gorgeous rainbow-y smoky quartz
.
D.C., as far as I can tell, is bereft of good gem and mineral shops. That means that, any time I need to re-up my stash, I end up having to go for a bit of a drive to do it. We make a day of it, picking a new restaurant to try each time (this time?
Tastee Diner
, where I had the
best
tuna melt I've ever tasted), and have a lot of fun in the process.
[caption id="" align="aligncenter" width="513"]
Unfortunately, we never remember to get a picture of the exterior when we go. Please accept my apology in the form of this artfully composed and not at all yanked from Google street view picture.[/caption]
The Crystal Fox itself has a feel not unlike most metaphysical stores I've been in. When a shop caters to people from a wide variety of belief systems, they tend to get this lovely treasure hunt atmosphere that I really enjoy. Incense wafts on the air, a store cat lounges in an aisle, and you're left to discover hidden gems both literal and figurative. Even though my S.O. doesn't go there for the same things I do, we both end up wandering wherever our eyes and attention spans take us. He always finds something cool there, and we meet at the register to excitedly show each other our finds.
[caption id="attachment_3489" align="aligncenter" width="513"]
I'd probably give one of my favorite fingers for that cactus quartz cluster in the back. Okay, maybe
second
favorite.[/caption]
This time, we got a pretty awesome little haul:
He chose the set of three hand-carved boxes, the opalite, and some really,
really
amazing-smelling soap by
Finchberry
. I picked up my favorite stick incense, a blue lace agate (for gem elixers, which I'll probably get into in a future post!), the most perfect little Herkimer diamond, and a really lovely quartz point. The quartz is pretty interesting, too -- I found it in a group of different-sized quartz wands, so it took me a bit to realized just how special it was.
Though I don't really hold with most of what crystal books say about different types of quartz, pictures don't really do clear quartz justice so I'll appropriate
some of their language
for a description. It's a channeling quartz, with a trigger and some lovely little rainbows within. It has a lot of etching on the sides, which it what initially drew me to it -- I love getting lost in all of the tiny, tiny natural designs! It was only after some inspection that I found the neatest aspect of this stone, though:
... It's actually double-terminated! What initially looked like a ragged, broken-off end is, in reality, the beginnings of a cluster. This crystal most likely formed on its side, atop a larger stone (similarly to some of the crystals "piggybacking" on one of my
morions
) so the tip was free to form a normal termination, while the base is a group of smaller points surrounding a larger one. Both terminations are intact, and the "bottom" one even has a tiny record keeper mark.
In addition to that one, I also finally bit the bullet and picked up a
Herkimer diamond
. I've wanted one ever since I found out they existed, but they can be relatively expensive. While my bigger crystal above was about ten dollars, this tiny Herkie was nearly half that:
The Crystal Fox has a nice selection of double-terminated crystals from both Pakistan and Herkimer, N.Y., but only those collected from Herkimer and the surrounding areas are really able to be labeled as "Herkimer diamonds." They're quartz, not actually diamond, but they tend to be smaller, stouter, and harder (by about .5 on the Mohs scale) than other quartz varieties. The one I picked is technically a "dolphin quartz" too, due to the little crystal riding atop it. Somehow, though I'm not entirely sure of the chemistry involved, the smaller crystal is a bright, citrine yellow while the larger one is water clear with a few black inclusions -- most likely hydrocarbon. Energetically, Herkimer diamonds are considered very high-vibration stones. I firmly believe that every rock has its own distinct energetic fingerprint and
any
stone can be "high vibration" if you pick the right one, but I can tell you that this is a pleasant, almost effervescent little guy to hold.
Now I'm on a bit of a Herkimer kick. I'd love to get more to turn into rings and stud earrings! In the interim, browsing
Etsy
has been sating some of my Herkimer cravings:
Herkimer Diamond Studs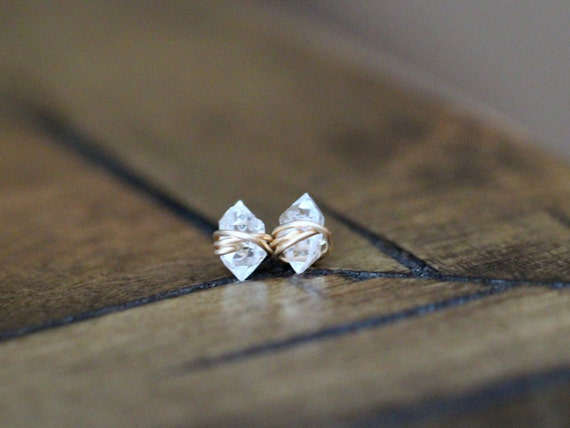 These earrings are absolutely gorgeous. Herkies are prized for their shape, so it's really lovely to see them used in their natural state. I have a cartilage piercing at the top of my ear, so I'm planning on getting a Herkimer diamond stud to add a little sparkle and magick. Source.
Herkimer diamond gemstone ring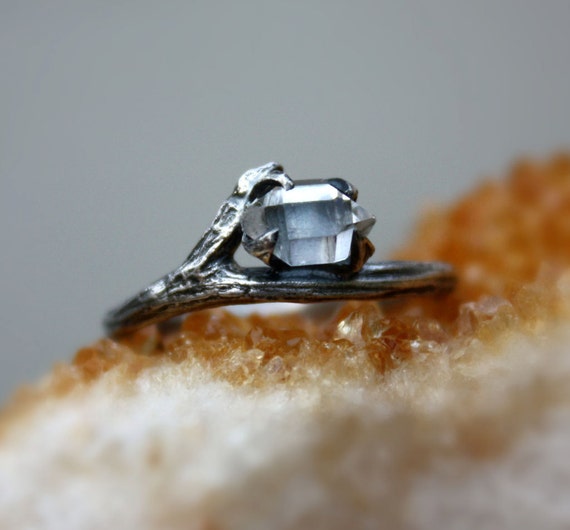 I love jewelry with organic, branch- or bark-like forms, and this combination of an antiqued silver branch and raw Herkimer diamond is stunning. I think it has a witchy vibe, but it's subtle enough to work with almost any aesthetic. Source.
Herkimer diamond engagement ring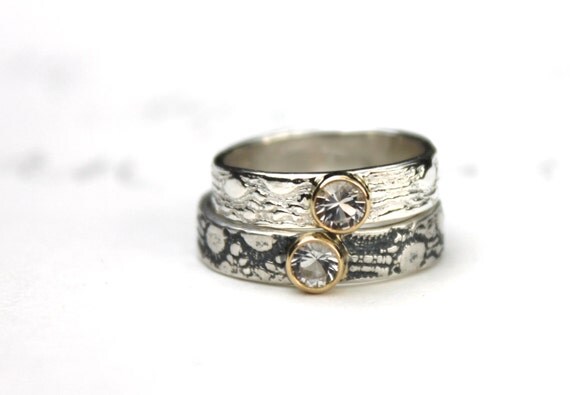 Planning on getting engaged? These rustic, lacey, two-tone rings make for a unique, affordable option. I'm not the marrying type, but I'd wear one anyhow. Look at that texture! Source.
Genuine New York Herkimer Diamond Quartz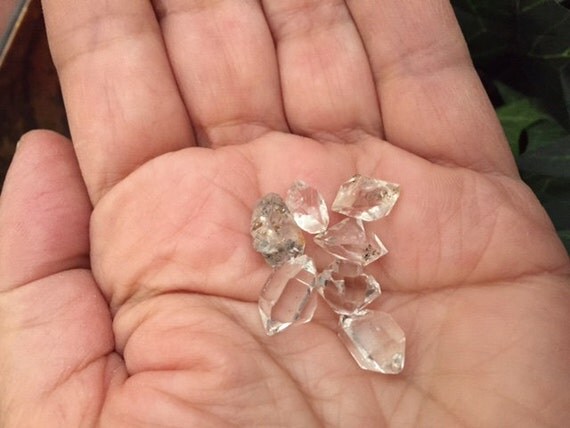 If loose stones are more your jam, there's plenty of those, too. These are some beautifully-formed, very clear Herkies that won't break the bank. Source.