Note: This post contains some affiliate links to selenite specimens. All images belong to their respective owners and appear here via a URL preview widget. Thank you for supporting both these suppliers and this site!
I've been on various forms of pain management since I was about fifteen years old. I had a pretty gnarly car accident, spent a couple of years doing physical therapy, and eventually needed knee surgery (and more physical therapy). With IIH, it's the second verse, same as the first -- not only does it cause headaches, but the pressure along your spine can do some really strange things to your nerves. I've had days where I have a neck or headache, sure, but I've also had days where colonies of fire ants were crawling under my skin.
You kind of learn to live with it and figure out what works.
My old neurologist prescribed amitriptyline, but it wasn't much help for the particular type of pain I experience. I've tried
a ton of other things, too
, both over-the-counter and not. Now, I'm gonna go all "THIS ONE WEIRD TRICK" on you in a moment, but hear me out...
Selenite?
Surprisingly
helpful for me.
I'm not going to lie, there is no empirical data justifying the use of selenite for pain. There is no scientific basis for it. I just know that using selenite is sometimes the only way I can get to sleep. Sometimes I rub it on my neck, sometimes I tuck it under my pillow, sometimes I lay it on my chest, sometimes I just hold it.
The funny thing is, ignoring the lack of scientific evidence for selenite pain relief aside, there's also no real
metaphysical
reason for it to help me like that. Out of all of the resources I've combed in curiosity, none of them mention using selenite for pain -- energy blockages, sure, but I
know
what's causing my pain and that's not it. This is part of why I think developing personal associations with stones is so important; you never know what you're going to discover for yourself. One stone may be able to do things for you that it doesn't for other people, and vice versa. It's an ever-evolving thing, and I've always found it super interesting.
I'm not suggesting that people throw away their medication and rush out to buy selenite wands and palm stones. I also don't want to imply that selenite will work for everyone's pain like some kind of rock evangelist. I
am
saying that I've got some in a little basket of self-care items I keep by my bed for rough days -- along with some chamomile tea, a wooden rolling massager, some massage oil, and some magnesium oil. It helps me get a better night's sleep and reduces my dependence on other forms of pain relief, so I'm all for it. There was a point in time where I'd've rubbed
bees
in my eyes if I thought it'd make me feel better, so using a six dollar stone seems pretty sweet by comparison.
If you're interested in trying selenite for pain, it's inexpensive and widely available. Here are a couple of specimens similar to ones I have, and a little explanation of how I use them: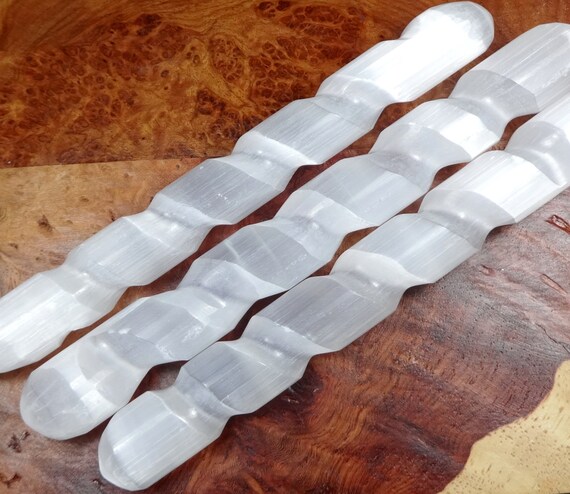 These wands are smoothly polished, so they're useful for massaging trigger points. The spiral texture also makes them helpful as rolling massagers -- you can use them like a rolling pin on arms, legs, shoulders, necks, etc., always moving towards the heart, in order to loosen up tight muscles while you benefit from selenite's properties. Source.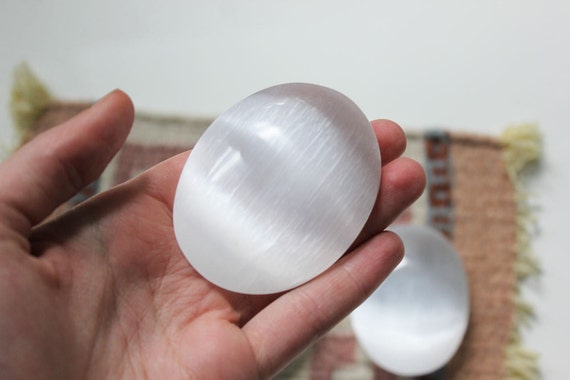 These guys have a smooth, rounded shape that I like holding, placing under my neck, or laying on my stomach to soothe cramps. They're also useful as meditation or relaxation aids, though selenite's pretty soft and requires some careful handling if you choose to carry it with you. Source.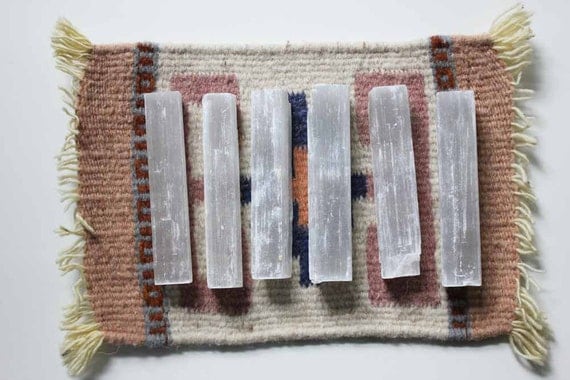 These guys are unpolished, natural selenite wands. Some people like using them kind of like aura lint rollers -- you sort of squeegee around yourself to clear away any negative energy that might be stuck to you. They're also useful for clearing away stagnant energy in corners, under furniture, and in other places that don't get a whole lot of natural flow. I like using these guys to grid a room or a house. Stick them in the corners with some kyanite and black tourmaline and you're golden. Source.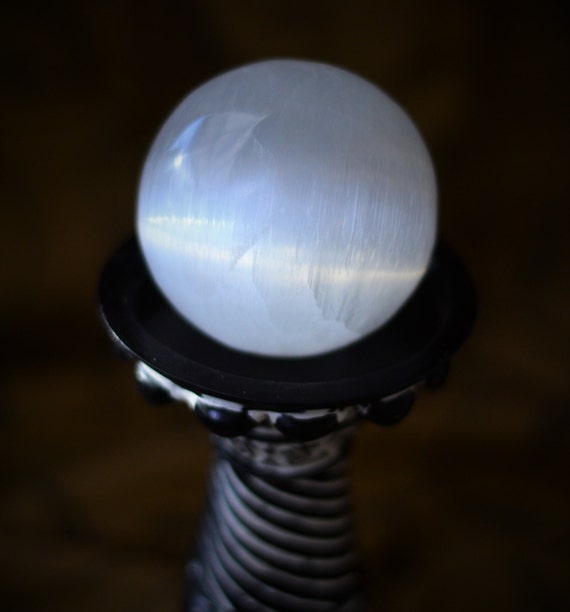 This is a 2.5" selenite sphere, which is a good size for using as a massage ball. I like using them to release a trigger point that occasionally acts up under my left shoulder blade, and they feel good to just gently roll up and down the nape of your neck. They're also good meditation aids, since it's so easy to get lost in the shimmery play of light across their surface. Source.
Do you work with selenite? What do you use it for?